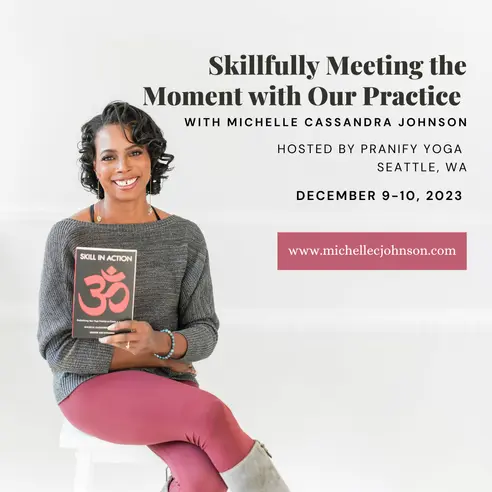 Skillfully Meeting the Moment with Our Practice with Michelle C. Johnson
Saturday: 12-3PM AND Sunday: 12-3PM Yoga is an ancient practice designed to support us in meeting whatever might arise, moment to moment. In this 2 day weekend immersion, we will explore how we can engage in spiritual practice to meet the uncertainty life presents and the challenging times we are experiencing because of social unrest, climate change, collective loss, and the unsettling times in which we find ourselves now. This immersion will explore how we might engage in spiritual practice to invite more ease into our and other's lives so we can cultivate a sense of collective ease and peace.
Throughout our session we will explore the following themes:

Personal and Collective Healing

Individual and Collective Grief

How We Heal Together

Finding Refuge and Points of Ease

Our Interconnectedness

The Bhagavad Gita and Skill in Action

The Kleshas

How to Hold Space For Your Own and Other's Suffering
The session will include: meditation, pranayama, asana, self-study and reflection, small group discussion, large group discussions, and rituals.

Michelle Cassandra Johnson is an author, activist, spiritual teacher and practitioner, racial equity consultant and trainer, and intuitive healer. She approaches her life and work from a place of knowing we are, can, and must heal individually and collectively. Michelle teaches workshops and immersions, and leads retreats and transformative experiences nationwide. As a dismantling racism educator, she has worked with large corporations, non-profits, and community groups. Michelle was a Tedx speaker at Wake Forest University in 2019 and has been interviewed on several podcasts in which she explores the premise and foundation of Skill in Action, along with embodied approaches to racial equity work, creating ritual in justice spaces, our divine connection with nature and Spirit, and how we as a culture can heal. Michelle published the first edition of Skill in Action: Radicalizing Your Yoga Practice to Create a Just World in 2017; and the 2nd edition of Skill in Action in November 2021, published by Shambhala Publications. Her second book, Finding Refuge: Heart Work for Healing Collective Grief, was published by Shambhala Publications in 2021. Her newest book, We Heal Together: Rituals and Practice for Building Community and Connection, published by Shambhala Publications, explores the deep knowing and truth that we are interconnected; we belong to one another. We Heal Together offers rituals and practices meant to dream us into a new way of being to benefit the highest and fullest good.
Michelle leads courageously from the heart with compassion and a commitment to address the heartbreak dominant culture causes for many because of the harm it creates. She inspires change that allows people to stand in their humanity and wholeness in a world that fragments most of us. Learn more about Michelle Cassandra Johnson here.