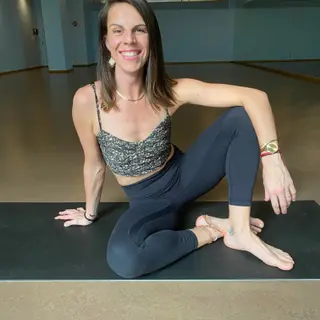 Kylie
Sutton
Owner & Teacher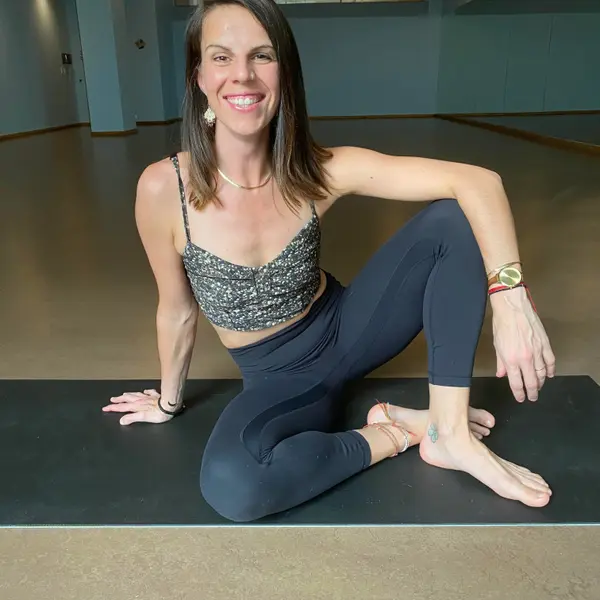 Kylie Sutton
Owner & Teacher
I found my yoga mat for the first time when I was 20 years old as a Junior at Vancouver Island University. As a competitive volleyball player from a very early age my body was trained to perform and strive for excellence. I really believe in the yoga teaching 'how you do one thing is how you do everything' and striving and achieving became a very innate way of being as I moved through my life. To land on the yoga mat and feel the possibility of being versus doing was very foreign yet there was a deep knowing that this was a relationship I wanted to continue to explore to truly meet my potential as a soul in a human experience.
From the first day I landed in Moksha Yoga Nanaimo I knew my life was forever changed. I completed the Moksha Level 1 500 teacher training in the summer of 2008 and this sparked the beginning of a deep love in the seat of the student. Originally from Edmonton, Alberta I was fortunate enough to mentor under Angela Zawada, founder and head teacher of Metta Yoga Edmonton where I really experienced the value of a dedicated yoga practice and a commitment to continued education. I continued to follow my passion for the practice of yoga and opened Moksha Yoga Kelowna in 2011 and then opened Modo Yoga Seattle in 2014.
I have had the great privilege to have studied with Jessica Robertson, Ted Grand, Dina Tsouluhas, Angela Zawada, Ryan Leier, Baron Baptiste, Bernie Clark, Nicki Doane, Eddie Modestini, Sianna Sherman and Greta Hill. While my original certification is in the Hatha practice of Modo Yoga I am also certified to teach; Modo Flow, Powerflow, Yin, Aerial yoga, Yang Yin, Prenatal and Restorative yoga.
I'm passionate about the fundamental elements on the mat that create a sustainable platform for continual evolution allowing the practice to be accessible to all levels of practitioner. My offering is a balance of Sthira and Sikha; the strength and the sweetness with an encouraging offering to support you in your expansion on your path.
When I'm not practicing, teaching or floating around the studio you can find me riding my bike, swimming or hiking in the Okanagan Valley.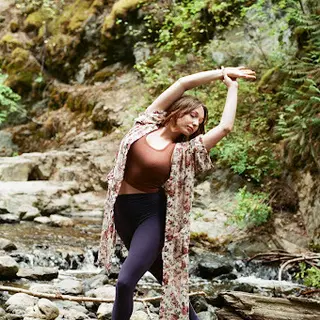 Chelsea
Murphy
Director & Teacher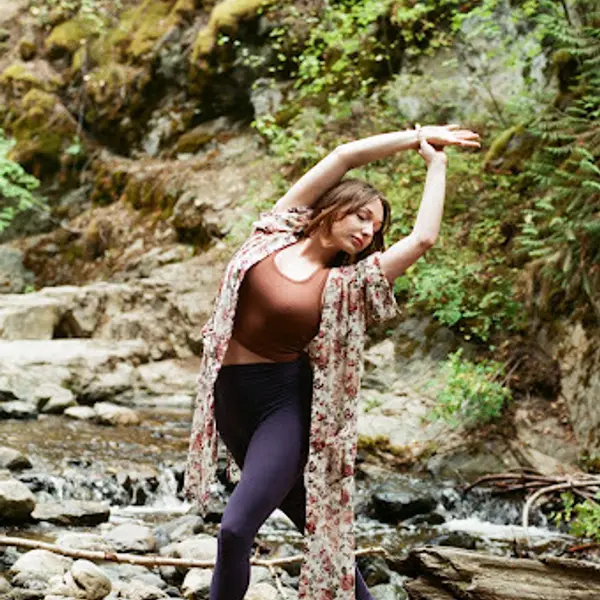 Chelsea Murphy
Director & Teacher
To me, Yoga is every and all things. It is my relationship to my mind, emotions, and body. To the people in my life and the strangers I'll never know. The world within and around me. What can be seen and what cannot be seen. It's my way of understanding and expressing through curiosity towards a deeper knowledge of who I am. Yoga is the mastering of the mind in order to experience the wholeness of freedom.
I found yoga as a dancer in college. For the first time I felt peace and confidence in my body and mind in a way that I had never before. I knew I had to learn more about it. I completed my 200hr Yoga Teacher Training in August 2013, 50hr Yin Yoga in January 2014, and Yoga Sculpt in February 2014 from Corepower Yoga in Orange County, CA and a 300hr Yoga Teaching Training in 2021 with Charlotte's Yoga School. I've had the privilege to continue my education through various lineages, trainings, and workshops throughout the years and am committed to always be on the path learning to be in reverence and service to this ancient practice.
My sankalpa, or sacred intention, is "I am liberated joy". I aim to create a space of joy: supportive, playful, celebrative, and compassionate joy in order to experience life freely in its ultimate bliss. You'll hear animated cues mixed with anatomy, humor, awareness to the subtleties, and honoring of Yoga's roots. Plus a stellar playlist!
Aside from my Yoga practice, I feel most vital when I'm surrounded by music and dance. That might be sharing music with friends, a living room solo dance party, underneath laser lit disco balls on the dance floor, or at a concert.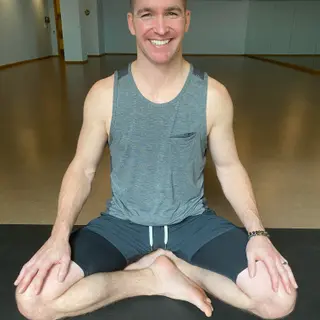 Brandon
Sutton
Owner & Teacher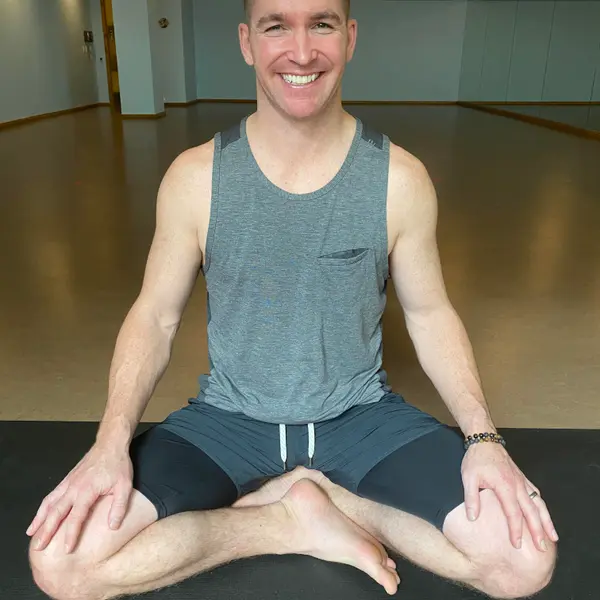 Brandon Sutton
Owner & Teacher
I grew up in a small community in Manitoba, Canada 1,500 people small… All I knew was hockey and golf. I was taught how to stay fit in the most basic way. It wasn't until I turned 32 that I found yoga. By then I had given up on hockey until recently, started snowboarding and weightlifting, and still continue to golf. At this point I was bulky, very stiff and sore. It was the perfect time for yoga to come into my life.
The first yoga class I took was mind blowing… the heat, the intensity, and the focus on the breath. Having asthma have always struggled with breathing, but after a few classes it got deeper and smoother. I was hooked!
The more I went, the more I learned about the body and how to move with breath. To be able to take my yoga off the mat into my everyday life inspired me to take my teacher training. Sharing my ever-expanding knowledge with others inspires me to be a better person and to always grow.
To me yoga is what you want it to be. At first it will probably be a workout, or a place to sweat, but secretly it starts to weave its way into your body, your mind and your heart. It can be tough as you want it or as soft as you need it to be. The more you practice the more you realize that it is bigger than the poses and the breath, but you have to show up to see that.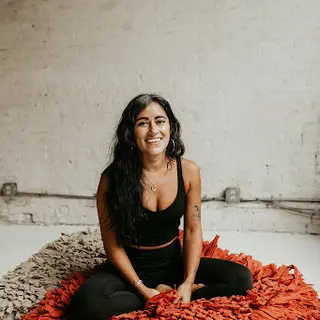 Anna
Drotts
Teacher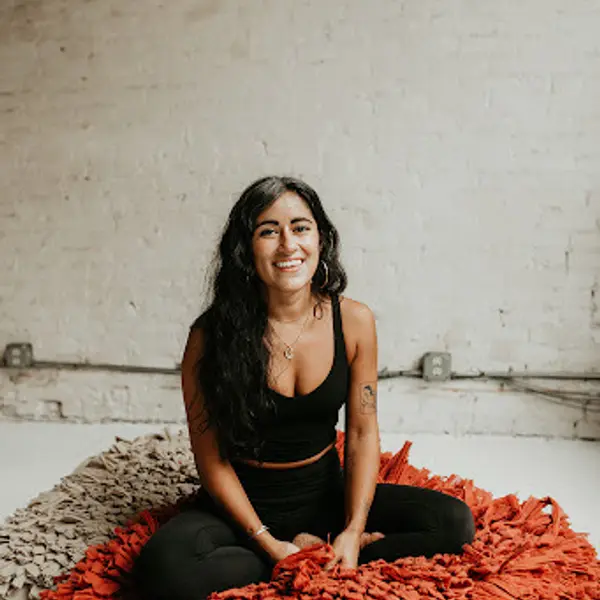 Yoga invites ease as I navigate the continual eb + flow of life. Yoga supports meeting the full spectrum of myself with sweetness + understanding. Yoga as a way of life allows me to remember that we are all so much more similar than we are different, we are connected to each other + we are part of this earth. I am remembering how to trust, how to soften + how to deeply love all that is.
I found yoga in my mid 20's, I was feeling pretty lost + looking for deeper connection. A dear friend invited me to join her at Modo, lying in savasana at the end of class I knew I had found a home. I joined the energy exchange program as soon as my intro was complete + went to my first tt that following summer. Since then I have completed 500hr Level 1, Modo Flow + Sequencing training with Modo International, studied with Greta Hill during the pandemic in her online 200hr Rasa Yoga + November 2021 completed a 100hr Yin/Restorative training at Yandara Yoga Institute in Baja.
I aim to create space for everyone to feel safe, seen + supported as they navigate their inner world. In practice with me you'll find connection to breath, intentional movement, heart forward music + an invitation to just be as you are.
What makes me feel most vital aside from my yoga practice is community, sunshine, music + riding my bike.

https://open.spotify.com/playlist/5W97xz2gpJbiEGXUlWKHR3?si=d29c5c3890034119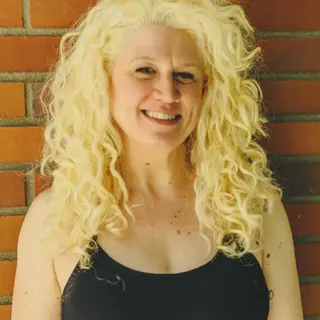 Bekah
Root
Teacher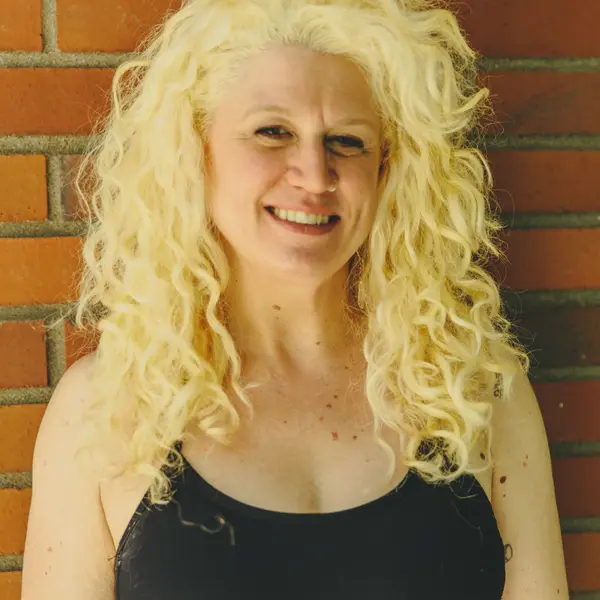 Bekah is a heat loving desert transplant from Arizona. Having competed in sport for most her life she found herself looking to yoga to help find a recovery plan from years of tough contact sports. After landing on her mat in 2013, she quickly discovered a whole lot more that yoga has to offer. Wanting to explore and learn all she could about all yoga history and philosophy she decided to go deeper. With years of coaching sports Bekah found herself wanting to turn her coaching into teaching and share her love of yoga with her fellow athletes. Bekah's passion is always being a student first, always learning and growing. Bekah's classes are a beautiful mix of strengthening, mobility, and mindful movement.
"Yoga to me is a safe space for me to come into the present moment and be with only my breath and my body. No matter what is happening yoga is my peace and the fuel for my soul. Though teaching I want to be able to give that safe space for others."
Bekah attended Modo Level I teacher training in Seattle 2017, Bernie Clark Yin Training 2019, Awakening Yoga Training 2021, Jason Crandell 300 hour advanced training 2022.

Briana
Stein
Teacher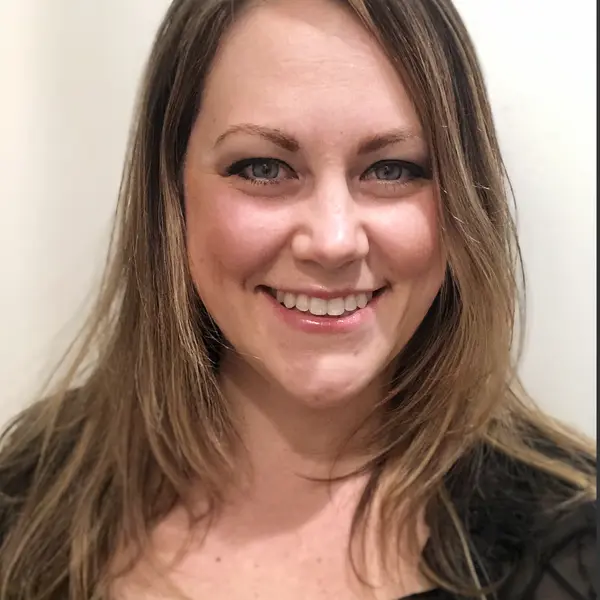 My first asana practice was in Pasadena, California while on spring break from college one year when I was visiting my brother and sister in law who lived there at the time. I remember riding passenger on their little moped bike to get to the studio a few minutes from their place. It felt funky, it felt lively, it felt okay, I had no idea what I was doing, but it was fun; both the ride and the practice itself. Fast forward to 2015, when I walk through the doors of Pranify, back then MYS, to eventually find myself hooked on this practice that would later change my life. At this time in my life, one thing I knew is that I needed a whole lot of "me time" and I was able to find that on my $10 yoga mat from Marshall's. It wasn't perfect, it wasn't pretty, it's wasn't clean, but the practice was mine and it brought me to a healthier and better place; physically, mentally and emotionally. That is yoga.
Yoga is constant growth, through the movement of the body and the ways in which we choose to live our lives. It is important to me that I live my life by making the best choices, and I try my best to do this by paying attention to what will serve me in any moment. That often means changing plans minutes, hours, maybe days before something is scheduled or planned. Because to live a life that is going to honor what my mind, body and soul needs means listening to the in-between moments, the moments of stillness no matter how long or short they may be and honoring the Chi, or guardian spirit, within.
In 2018 I traveled to Kelowna, BC to learn, study and grow as both a yoga practitioner and teacher. There I completed my 300hr Modo teacher training and a year later finished my studies receiving my 500hr. From 2018-2019 I played, practiced, sang, and worked to complete my 95hr Kids, Teens and Family Yoga certification from Deven Sisler Yoga. Deven continues to be my teacher, mentor and friend to this day. In the midst of the global pandemic I continued my studies, and achieved my 60hr Evoke Yin teacher certification from Evoke Energy Yoga during the Spring of 2021. It is a necessity in my growth as a teacher and professional that I continue to work on my relationships with those who have taught me, lead me and honored my path through continued trainings, workshop attendances, and meetings.
My intention, existence, is to educate the whole being while cultivating a safe, fun environment to release that which holds one back from the feeling of ultimate joy. I do this through deep self-care, and the sharing of my own practices and strengths through teaching.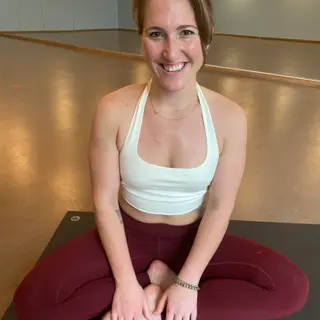 Cecelia
Bartosiewicz
Teacher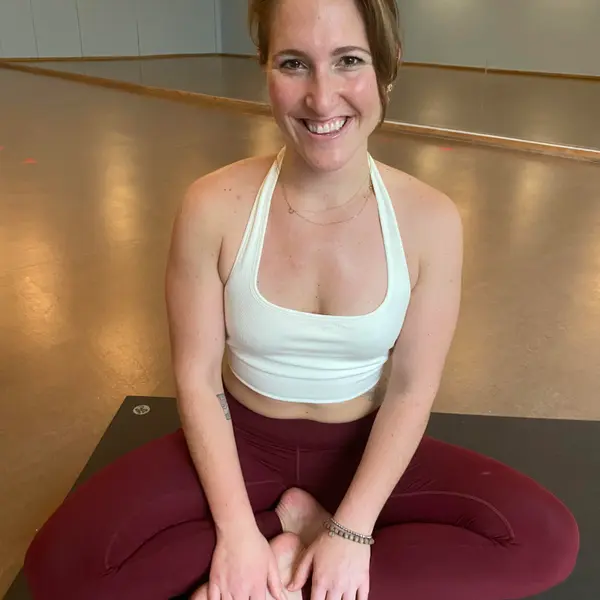 Cecelia Bartosiewicz
Teacher
Yoga has been a place for me to explore and test boundaries within my body, which then has expanded to many different areas of life. It has been a space for me to set limits, explore possibilities, and shed the negative self talk that comes from today's society and comparisons on how we should do things. Yoga has been a safe place to find acceptance of my physical body, and my mental/emotional self. I became a teacher to help nourish those safe spaces for others to do the same.
I have always loved yoga since college, and it also became a place to bond with my older sibling. I paired it with running or ultimate frisbee, except when I became injured and high impact activities became more painful. Then I truly leaned in to yoga and teacher training. I initially did my 200 HR teaching with Corepower in 2017 in Boston, MA. I have also been very fortunate to live in many states around the US, like New Orleans, Pittsburgh, Houston, and have loved getting to experience many different presentations and styles of yoga. I feel like taking from a plethora of teachers has greatly impacted how I teach.
My intention, or purpose to guide you, is that "I am here to move you through temporary moments". Life comes with this cycle of good/bad, positive/negative, happy moments vs sad, etc. It is all a continuous flow between these opposites and they can exist at the same time. I would love to show you how to move through it. I have also gone through the journey of thinking postures weren't accessible for my body type, then embracing my body as it continues to accomplish new things. In my class you will get reminders of the foundations to give you a strong base to explore more possibilities in your practice! I love to add a little "what if" moment and encourage being playful. I laugh at myself often and hope you will too.
Outside of yoga I am a Music Therapist, so you may get some sweet tunes sung at the end of class. I also have gotten back to running and playing ultimate frisbee. I love connecting with these communities around me.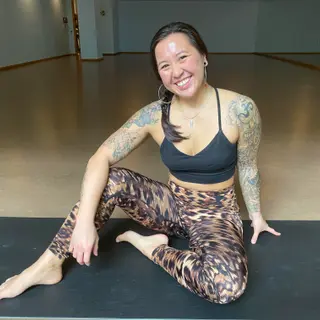 Chynna
Spencer
Teacher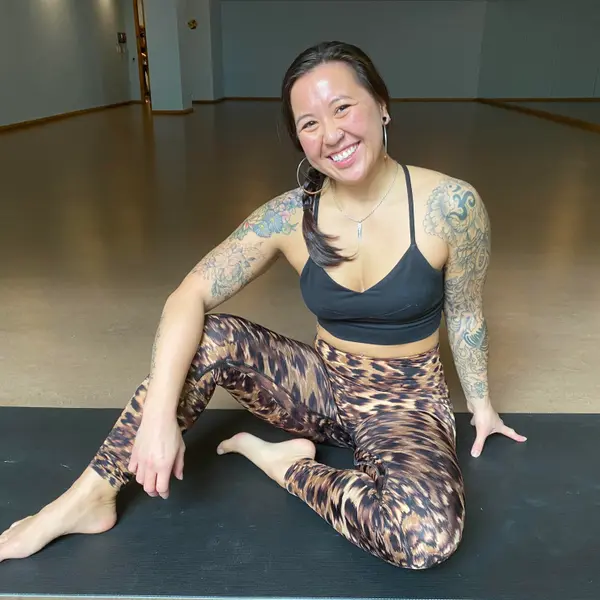 I have always loved movement, it is and always has been one of my truest forms of expression.
But as much as I love movement, sports were never my thing growing up - my deeply non-competitive nature, paired with pretty severe asthma, didn't support a prolonged interest in most sporty activities I came across. But when a friend invited me to a hot yoga class in high school I figured I'd give it a try, and I was hooked immediately - by the sweat, the stretch, the challenge, and that after yoga bliss - I had finally found a 'work out' that felt good in my body. I loved how yoga made my body feel. I loved leaving the hot room, dripping with sweat, feeling a little sore - it felt like a huge physical accomplishment that I wanted to work at again and again.
The more classes I took the more I fell in love with the symbiotic nature of movement and breath that I was able to cultivate through my practice.
A few years later, my practice shifted to something deeper. I lost my dad during my sophomore year in college, and my practice took a turn inwards; it became my therapy, my time to get quiet, to set the constant stream of thoughts aside, and just be in my body. My yoga practice offered me a solitude that I could always drop in to, on or off my mat, using breath and mindfulness.
After college, I searched for a yoga community that supported both aspects of my practice - that offered the 'work, sweat, challenge' alongside the 'breath, intention, mindfulness' - and that is what I found at MYS/Pranify.
I took my first Karma class at the studio in 2015 and just kept coming back again and again. The energy of the space and the community was so alluring in ways that I can't even put into words - I just wanted to be there. I joined the EE program in 2017 and did my 500hr teacher training with Modo Yoga International in 2019.
I've been teaching hatha and vinyasa at MYS/Pranify since completing my teacher training in 2019.
The foundation for my classes is, and will always be, accessible movement supported by intentional, grounding breath. This beautiful practice that we get to share can offer something for every body, and through my teaching and studentship I hope to be a light alongside each students' journey in practice.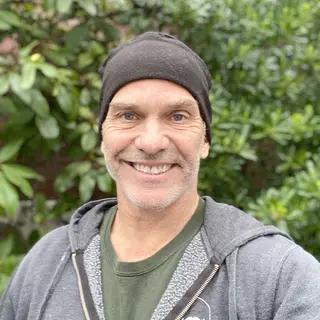 Dan
Druliner
Teacher/Community Creator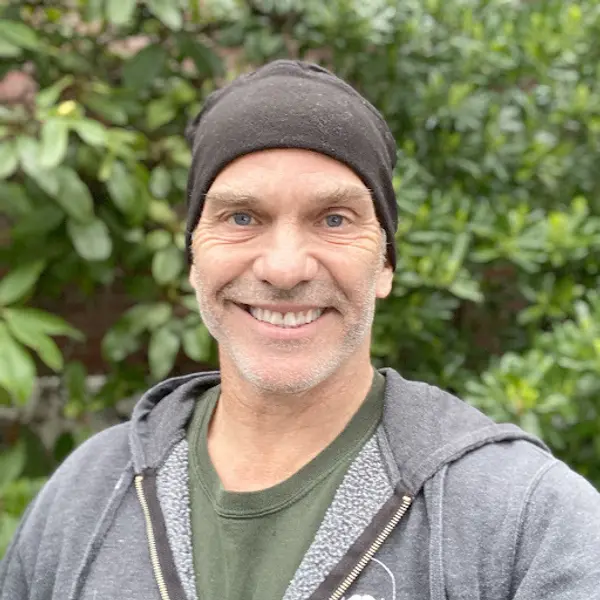 Dan Druliner
Teacher/Community Creator
Yoga has given me tools to recognize my true nature: I am the clear blue sky! The storms that sometimes cloud my awareness are but temporary obscurations and are not my true essence. My yoga journey began in my teens when I was introduced to Transcendental Meditation by my siblings. As meditation helps me recognize the gyrations of my "monkey-mind" I see how pranayama returns me to the present moment. As I withdraw from the sense-realm my focus improves and I see how ethical living improves my perception of my true nature. My formal asana practice which began in 2015 continues to support the other limbs of my journey toward self-awareness and self-discovery. The 200-hour teaching certification I earned in 2019 at We Yoga Co. enables me to share my love of self and practice with others. When I'm not in the studio you'll often find me running, hiking, biking or paddling around our beautiful Pacific Northwest mountains, lakes, rivers and beaches. I look forward to seeing you on and off the mat. Namaste!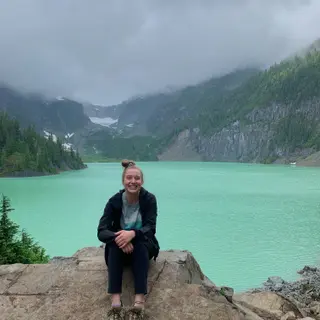 Elliana
Copeland
Teacher & Studio Assistant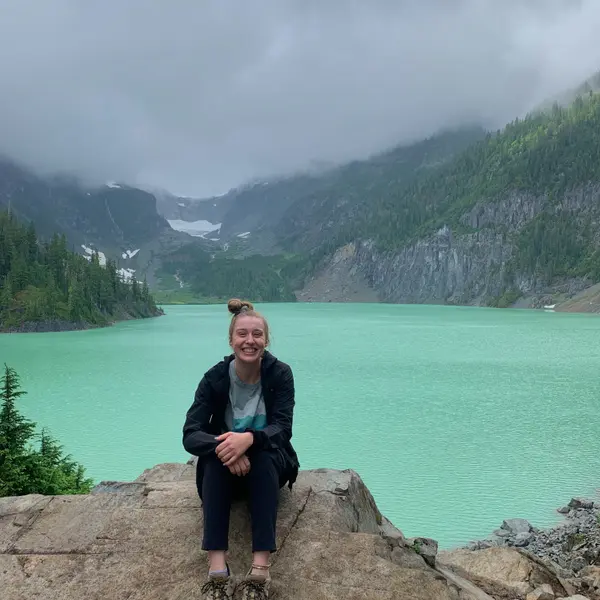 Elliana Copeland
Teacher & Studio Assistant
To me, yoga is my safe haven. Truly and unequivocally, yoga has brought me back home to myself time and time again. I found yoga when I was eighteen years old after experiencing pretty intense trauma throughout the majority of my childhood and adolescence. Before yoga, I was completely disconnected from my body, and from others. Quite frankly, I didn't know how to listen to my body's cues and finding comfort in stillness felt virtually impossible. I didn't feel safe in my own skin, and yet I had no idea how to move past this challenge.
Yoga showed and continues to show me how possible it is to feel safe in my body, and in relationship with others. It has slowly broken down anything and everything I've ever learned about my body, from how it moves and functions, to what it needs to feel supported, honored, and nourished. And most of all - this beautiful, ancient practice has opened me up to an amount of love and grace for myself that I never even knew existed. This deep connection I've developed with my body has been one that I will forever & always cherish and continue to expand.
Before I found yoga, I spent years in and out of doctors offices, physical therapy clinics, and so, so much more. I practically grew up in a wide range of medical and holistic health & wellness spaces. Because of this, I had the incredible opportunity of meeting and working with some of the most compassionate and well-rounded practitioners. So much so that I absolutely fell in love with learning how to mindfully hold space and guide more people into deeper relationships with their bodies. For years I was searching for a way to bring every little nugget of information that I had absorbed from each practitioner into one profession, and then I found Greta Hill's 200hr Rasa Yoga Teacher Training and that was it! I observed everything I ever learned and experienced culminate into one practice. I intend to forever continue expanding my studentship, as well as my offerings as a teacher and space holder.
My sacred intention is to Cultivate Deep Connection. I am wholeheartedly dedicated to creating a warm, nurturing space for all to feel seen, heard, and welcomed with the utmost love & grace. By doing so, I aim to inspire and awaken each and everyone's ability to connect deeply with their own minds and bodies, as well as with the community around them.
I am genuinely a student at heart so when I am not on my mat or in the studio, you can find me nose deep in a book learning something new, or hiking/camping in the mountains, spending time with my favorite human ever (aka my little sister), watching the sunset completely and utterly awestruck, creating yummy food & baked treats, or jammin' out at a concert!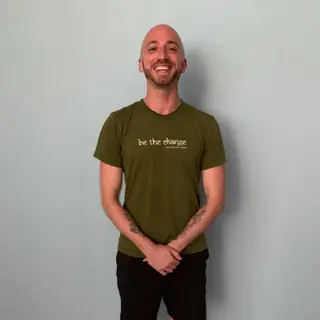 Grady
Kiser-Lowrance
Teacher
Grady Kiser-Lowrance
Teacher
Yoga has become the lens through which all is experienced. It has rooted itself deeply in all aspects of life. Yoga enriches each breath, each moment. It is my teacher, my guide, my roadmap to self realization. The reminder of how empowered we are. It is truly a gift to be able to share yoga with others. To practice present moment awareness together is a beautiful thing. To be able to create a safe place to express your yoga and move the body in a way to bring mind, body, and soul into alignment is quite the honor. How can we make more and more of our life meditative?
I began my yoga journey almost twenty years now and a teacher for the better part of fourteen of those years. My 200hr training was focused on the Hot Yoga Series. It is known as Barkan Method taught to me by the Yax brothers of Hot House Yoga. It was coupled with a 50hr Vinyasa training that overlapped. This training style is by Rolf Gates who teaches Baron Baptiste style vinyasa. I always enjoyed more of a flowing style in my practice so I naturally took towards leaning more and more towards that style of teaching. Six years into my teaching career I delved deeper and embarked on the next 300hr training with Ann Richardson Stevens at Studio Bamboo. It was an Adaptive Teacher training program studying all styles and approaches to yoga including an accredited Yoga Therapy course. If yoga translates to yoke/blend together then it only made perfect sense to let all the styles coalesce together/churn in the pot until the right recipe emerges.
The strong sense of well being and connectedness is what brings me back to the mat. It is my anchor when the tulmute of life sweeps us off our feet. Reconnecting to a studio after the pandemic was like reconnecting a lost piece of myself. It always has a way of either making sense of everything or at least contentment with it.
When you are practicing beside me or allowing me to guide you through your practice I want people to feel that they are in a sacred and safe space. Free to express their yoga as they deem appropriate for the moment, always with respect to each other. I seek to create joy, contentment, peace, transformation, and growth in your life. I hope we can learn to approach life like we do postures with a strong sense of gratitude, grace, finesse, and empowerment. I hope we learn to be more responsive and less reactive.
Aside from yoga, music is just as much a passion for me. I've been teaching myself how to play guitar as long as I've been practicing yoga. So you can imagine how much time I spend excitedly making playlists!!! There is certainly an overlap as the two feed off each other's growth. Building a sense of rhythm, working the breath and the ability to spread focus from your vocal cords to your finger tips while keeping track of time. It is indeed a beautiful way to meditate and practice being present! I also enjoy other forms of fitness. Running is another way I enjoy living vital. It is a paramount expression of strength & health. Running, like yoga, is very humbling and a great reminder to listen to the body. Positive tension is great at the right time but you still need to care and be gentle with the body too.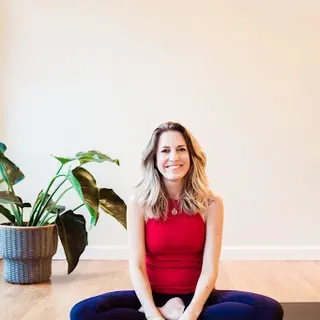 Greta
Hill
Teacher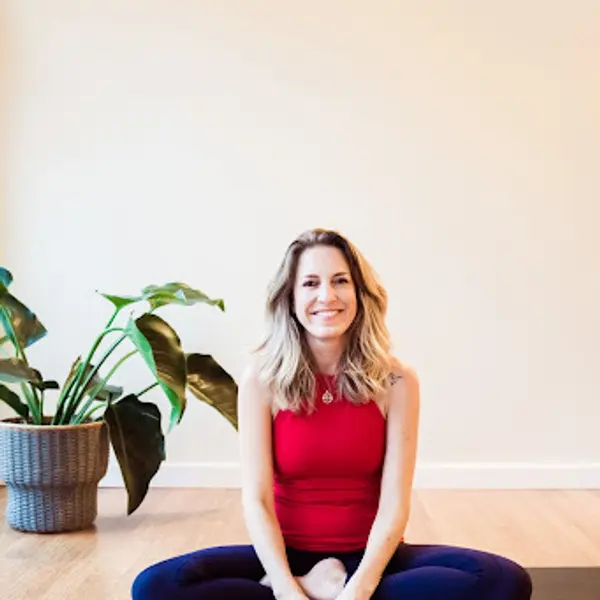 I have been a sincere student and deep practitioner of yoga since 1996. I came to yoga in my late teens to heal my heart after a devastating loss. I started teaching shortly after and it has been the only job I've ever had since my teens! For me, yoga is an entire way of living and being in relationship with myself, Spirit, and the world. It has inspired and transformed every part of my life and I am forever grateful to the lineages and great beings who have graciously shared these teachings with us all.
I have had the incredible blessing to teach internationally for over 20 years. I lived and taught extensively in Los Angeles, Bangkok, Brazil and New York before moving to West Seattle. I am forever a student and have accumulated over 10,000 hours of training including certifications in Anusara, Vinyasa, Katonah and Rasa Yoga, Instinctive Meditation and Ayurveda. I work alongside one of my great teachers, Sianna Sherman, serving as the Co-Director of the global Rasa Yoga Collective. My other primary mentors include Sreedevi Bringi, Michelle Cassandra Johnson, and Paul Muller Ortega. I am dedicated to shadow work, anti-racism work, and to honoring the roots of yoga.
My sankalpa is to Serve with Love. I am dedicated to creating a warm and welcoming atmosphere where students feel both challenged and inspired to grow physically, mentally, and spiritually. My classes are deep, nourishing, sweaty, high vibration yoga that include creative and intelligent vinyasa, functional anatomy, mantra, mudra, and yogic philosophy for inspired living.
When I am not on my mat or in the studio, you can find me near the ocean, walking my Whippets, on a travel adventure, or checking out live theater and concerts!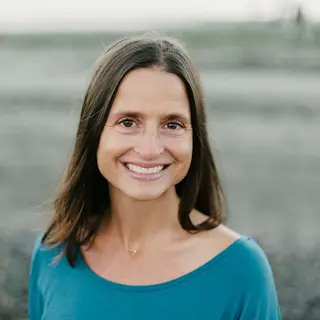 Jodi
Boone
Teacher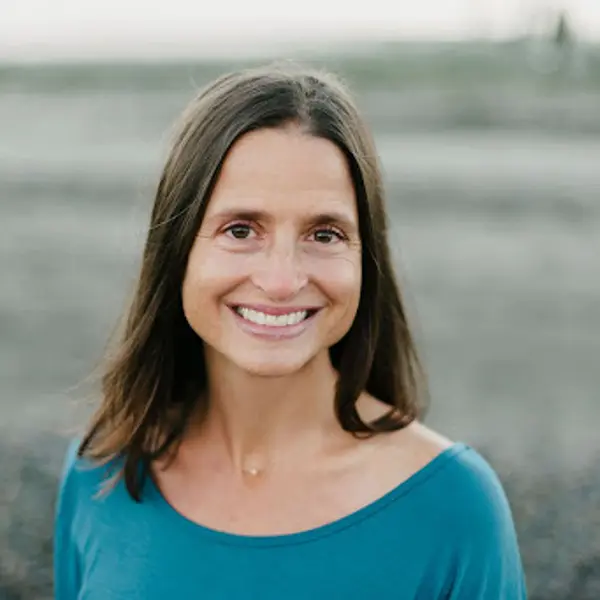 In my late teens I was so drawn to practicing yoga. Back then, the primary way to research local businesses was to look in the Yellow Pages! I found only two studio listings in the Seattle area in the late 1980's: one on Queen Anne and the other was located on one of the islands. I went to Queen Anne, the studio of Maria Svoboda, a beloved Czechoslavkian Iyengar teacher in our community. I didn't know it at the time, but walking into that little studio was like crossing a threshold and would change my life forever.
At that time, yoga was something I did occasionally, but in my late 20's, I went through a very difficult life transition and yoga became my refuge. I can honestly say, I am not sure where I would be today without this practice. Through yoga, I have met my dearest friends and most profound life teachers. Studying, practicing, and teaching yoga has led me to places all over the world. I am immensely grateful for the practice, to my teachers, and to all of the beautiful people I have met on this path.
In 2006, I went to India to study yoga and meditation. There is a saying, "Don't plan India, because India will plan you." This is exactly what happened. While there, I fell in love and decided to move to India to live, work, and study yoga and Ayurveda.
I have a background in Iyengar, vinyasa, restorative, as well as Ananda yoga, a devotional style of yoga based on the teachings of Paramhansa Yogananda, author of Autobiography of a Yoga. I draw from these traditions to create a fluid and meditative practices. I teach in the most authentic way I know how to honor the tradition and inspire others to experience the gifts of yoga, creating a sense of wholeness among heart, body, mind, and spirit. This sense of wholeness, or oneness, also dissolves our sense of separation from others - which alleviates suffering. I encourage practitioners to go inward; nourishing themselves, deepening their intuition and honoring the divine within.
In addition to teaching yoga, I am a certified Ayurvedic practitioner with a private practice in the Greenlake neighborhood. I am also currently studying counseling psychology at The Seattle School of Theology and Psychology. At the moment, work and school leave time for little else, but I do prioritize going away on retreat twice per year to deepen my practice and connection to myself, the earth, and others.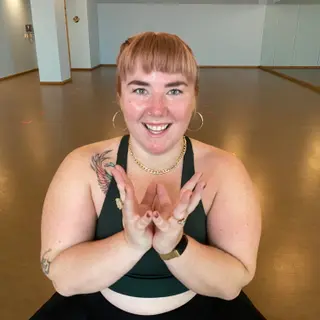 Katie
Asare
Teacher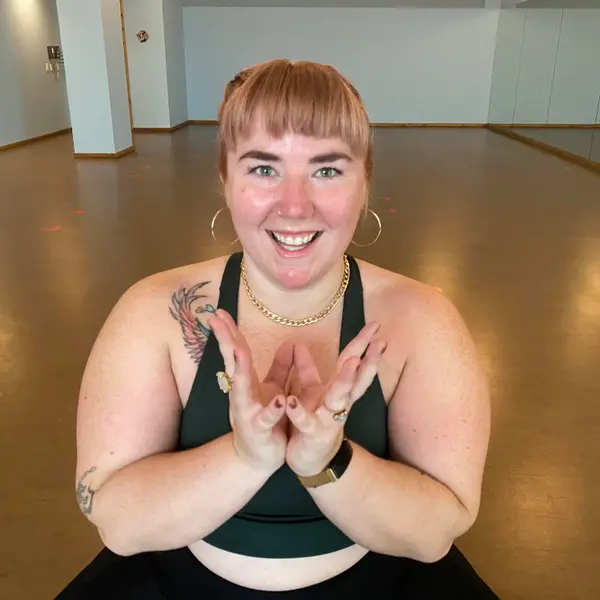 An educator at heart, Katie is a high school teacher at an alternative program for credit-deficient students who are working hard to graduate on time in the south King County area. She is passionate about creating a more equitable educational landscape for ALL students no matter their zip code, color, sexual orientation, gender or learning abilities.
Despite dabbling in yoga throughout the years, Katie didn't incorporate mindfulness into her life until she found Modo Yoga Seattle in July of 2015. Katie has always been a driven, goal-oriented person, but sometimes that meant going into overdrive and not knowing how to downshift. Yoga has taught her how to be present in the moment and control her active, anxious mind with breath, movement and meditation so that she can be fully present for herself and all the amazing people in her life.
Katie first joined the community as an Energy Exchanger. Then she became the Energy Exchange Manager and finally a MYS teacher. In July of 2016, she attended the Modo Yoga Teacher Training in Kelowna, BC. Her journey continued with Modo Flow training in Montreal during August of 2018 as well as two intensive workshops with Nicki Doane in 2018 and 2019. In addition, Katie studied Iyengar yoga while living in Singapore in 2018. Katie is so excited to continue to learn how to help students find alignment in their bodies, minds and hearts.
If there is one thing you take away from her yoga class, she hopes it would be a closer connection to yourself, a sense of home in your own skin.
In the words of Nayyirah Waheed:
"there is you and you.
this is a relationship.
this is the most important relationship.
- home"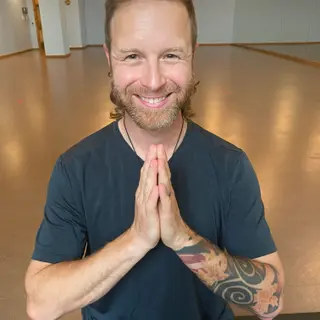 Kevin
Hood
Teacher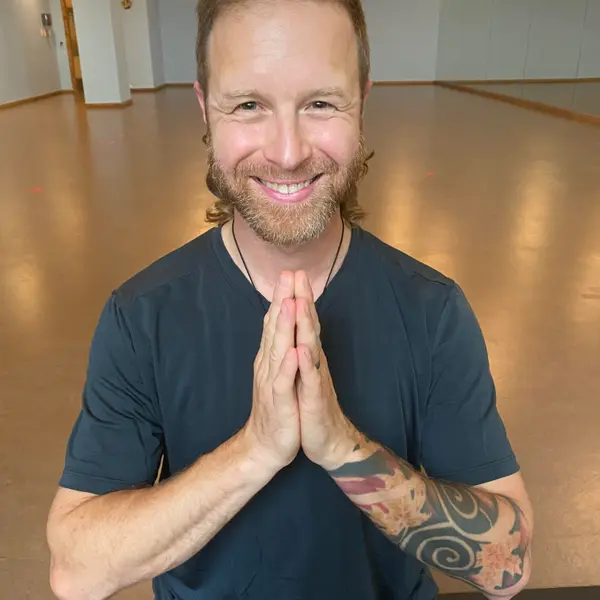 Kevin is a native Oregonian, who has created a home in Seattle over the last decade. As an environmental scientist he works to protect the natural resources surrounding us as the city continues to grow and evolve. He is passionate about environmental conservation and believes that a regular yoga practice combined with time spent in nature is a powerful method to facilitate a deeper connection to ourselves and illuminate what is most important to us.Kevin firmly believes that who you choose to be and who you surround yourself with determines much of how your life evolves. He is committed to creating a life full of love, openness, integrity and play and to holding space for these values in our community.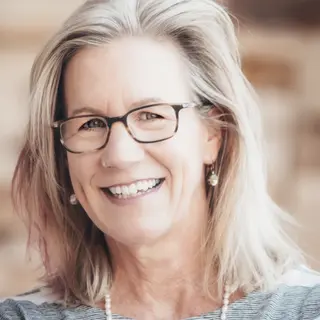 Jess
Price
Teacher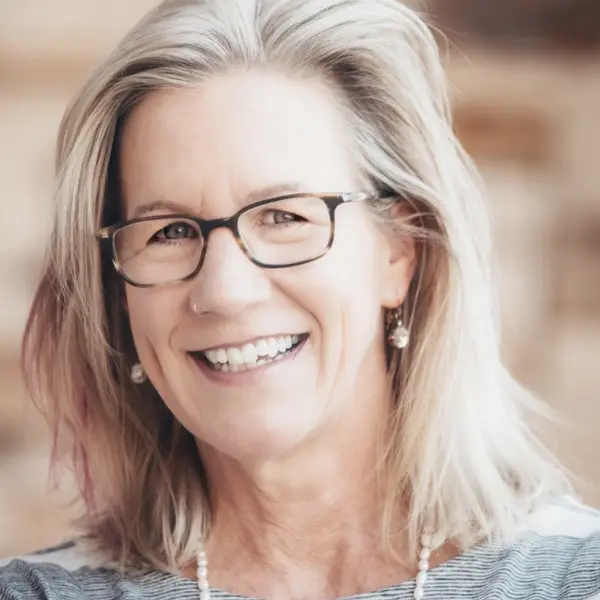 Hello, my name is Jessica Price and I live in Seattle Washington. I started practicing yoga over 20 years ago. I had a long career in the hospitality industry including owning my own restaurant with my husband. The stress of ownership was beginning to take its toll and I knew I needed to find an outlet.
I took my first yoga class over 20 years ago and instantly fell in love with the practice. I found CorePower right after it opened in Ballard in 2012. I fell in love with their practice and wanted more.I started to get my foot in the door with their work for trade program but I knew I wanted more.
I completed my 200 hour teaching teacher training program in 2014. I was hired on as an intern and knew that I had found my passion. I quickly moved into management but stayed true to my practice. I am now a experienced registered yoga teacher. I'm happiest when I'm either teaching or taking a class. I'm so grateful to have found my passion.
I am currently in the process of obtaining my 500 hour certification.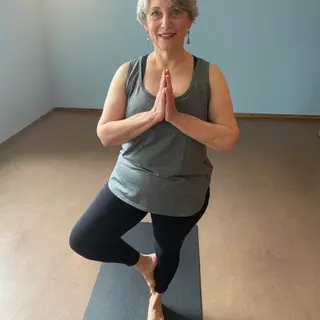 Monica
Stein
Teacher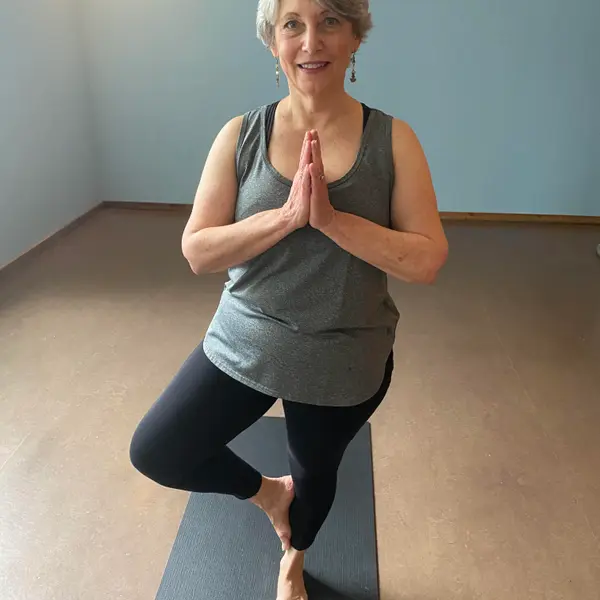 Monica discovered yoga about 15 years ago, but did not become a regular practitioner until she found Modo Yoga. After her intro month in 2016, she was hooked. The studio was a very welcoming and inclusive place, and she soon realized that yoga was becoming a very important part of her life. It was always a good day when Monica could join other humans to sweat, breathe and break boundaries together. After a couple of years as a member of Modo Yoga Seattle, she joined the Energy Exchange team which led to a position as a front of house leader. Having been an educator for the past 30 years, she realized that she wanted to bring her love of learning and helping others to the studio.
Monica completed her Modo Level I training in 2019. She believes that yoga is a relationship that is developed in the body, the mind, and the breath. It is freedom and release. Monica is here to help others find this freedom, so that they can move their bodies through life comfortably and confidently.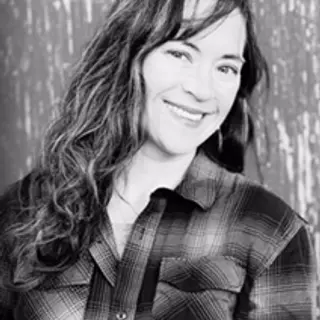 Marni
Yamada
Teacher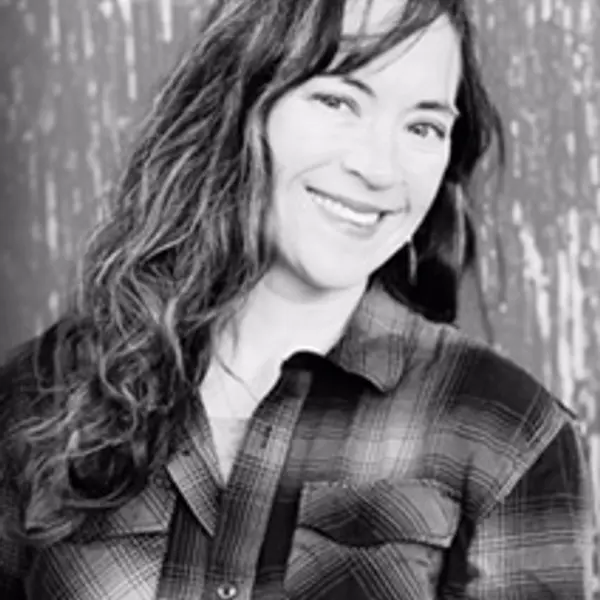 Sometimes I say I found yoga. Or maybe yoga found me.
In 2001 I had an injury that would change the course of my life.
I broke my T12 vertebrae while snowboarding and the break came centimeters to the spinal cord barely dodging paralysis.
It was my first year as a professional snowboarder and I was physically and emotionally heartbroken. I was nineteen years old.
My mom took me to yoga after my injury to help me heal.
It did more than heal my body.
It opened up a doorway to a lifetime of discovery in mind, body, and spirit I never knew existed.
I knew in every cell of my body that the wisdom of yoga was a part of me I had to learn, share and be completely in love with.
If it could heal me on all levels, maybe I could help others?
This has been my life mission every since.
I completed my 500 hour training in 2002 shortly after my injury and have been teaching now for 22 years.
I have studied various lineages and am certified in prenatal, kids, and elderly.
I competed for 15 years on the US Snowboard team, World Cup circuit, and 8 X-games in snowboarding.

In my classes, I support each person and their physical limitations while allowing opportunities to help them grow and expand their experiences on the mat.
I have 2-year degree in Ayurveda which inspires my classes and helps to understand each individual as a whole.
I am a mother of two young kids who challenge me in new ways every day and help me to show up in all the messiness.
To live vital means many things to me depending on the day.
My staples include: Kale, abyanga/daily oils, tons of water, sweating, being in nature, and hugs.
Also…
An untouched powder turn, a clean wave to surf on at sunset, my family, dancing and singing kirtan.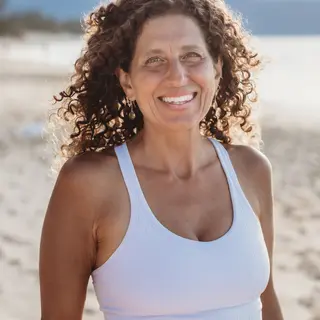 Tami
Hafzalla
Teacher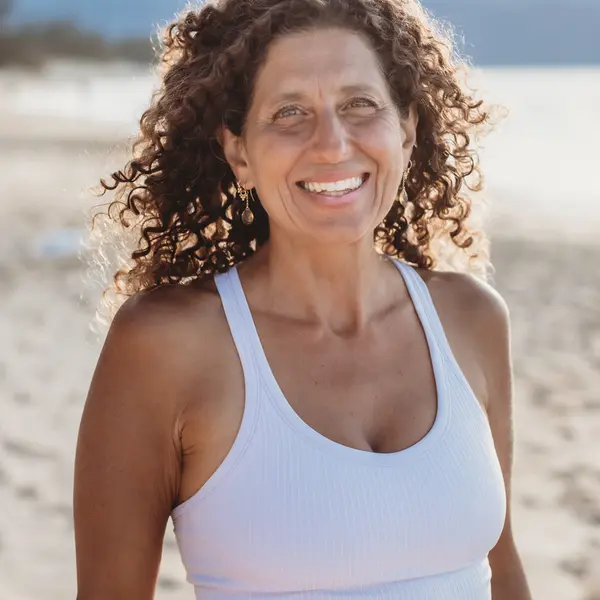 As a Yoga teacher of 22 years, Tami is adept at holding grounding, compassionate space. She is committed to cultivating a practice that is warm and welcoming so that students move through a personal process, finding union of body, mind, and heart. They are guided to access profound levels of insight and freedom, reconnecting to inherent wisdom, to heal and dissolve barriers that separate us from ourselves and each other. Ultimately, Tami's intention is to share techniques to align with radiance from the inside out; connection to self, connection to others beyond name and form, connection to spirit, universal consciousness, and love.
Tami has traveled and studied extensively with master teachers in India, Australia, Europe, and the U.S. Drawing most from her classical training in Ashtanga, Iyengar, Viniyoga, and Ayurveda, her classes are artfully sequenced, strength building and meditative. Tami has led teacher trainings in Seattle and India and retreats worldwide. As an Ayurvedic practitioner, she infuses classes with ancient wisdom for contemporary living. She offers intuitive and simultaneously skillful hands on adjustments grounded in her training as a Licensed Massage Therapist.
Tami's greatest teacher is her beloved son, Indi Kainoa. From him, she knows the most profound love, patience and joy of being embodied, alive and awake in the present moment. What a blessing to be on this unending journey of renewal & transformation.
To learn more about Tami and her offerings please visit: bhakti-flow.com