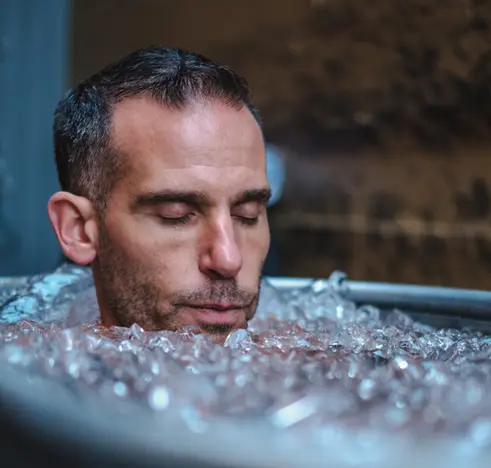 With Jeff Sorensen
12-6pm
$111
E4 Essentials – Evolve – Empower – Embody – Expand
Explore the body-based practices of BREATH, ICE and MOVEMENT to reconnect to your true potential. Harness these powerful tools backed by science to find the freedom and joy your heart desires along with the resiliency required to navigate a wildly and rapidly changing world.
Join us for this one-of-a-kind experience designed to help you learn to utilize simple and
practical tools that will lead you to more peace, creativity and flow in all aspects of your life, your relationships and your career.
Shatter your limiting beliefs and let go of living in fear. Master your mind and remember your true nature. Remember how strong and resilient you are by breaking through the mental barriers that hold you back in your life.

Over the course of this workshop we will touch on the basics of nervous system regulation, harnessing the power of your breath, natural stress management and how to improve mood and create ecstatic, blissful states of being using only breathwork and natural stressors like heat and cold.

Breathwork – Our breath is our greatest resource. Explore the profound states of
consciousness accessible through breathwork led by master breathwork facilitator Jeff
Sorensen. Harness this incredible power in your day to day life with a simple framework
for personal practice, nervous system regulation and stress management.


Cold Exposure - Gain mastery over your nervous system and mind using an ice bath as a mirror to reflect our aversions to sensation and discomfort. The nervous system is the energetic system of our body. Expanding its capacity allows you to stay regulated and expansive in stressful situations, expand your energetic field and your ability to channel energy in your life as well as enhance creativity.
Movement – Open and align the body to higher states of being with a variety of
movement practices intelligently sequenced with the other modalities presented to move
and amplify the energetic shifts created. Movement practices will vary from yoga,
somatic release techniques, to ecstatic dance and more.


Community – Coming together in community with others of like mind and vibration is perhaps one of the most potent and powerful medicines of our times. Entering a safe
container where we can be seen, heard and held by our community allows us to heal our
wounds and strengthen our confidence and authenticity to show up in the world as the
one we came here to be.
"When we embrace these practices individually we can create miracles in our life, when
practiced together in community we can change the world." Jeffrey C. Sorensen