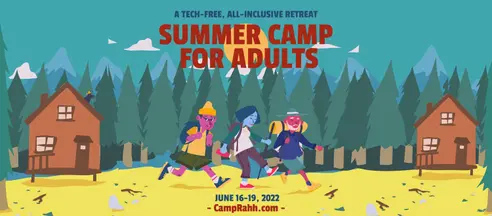 Camp Rahh is an all-inclusive Summer Camp for adults in the Pacific Northwest.
Campers spend a 4-day cabin retreat outside with activities such as kayaking, archery, and yoga by Pranify Yoga Seattle Studio Director, Chelsea!
You'll also enjoy our live concerts, skill-building workshops, and chef-made gourmet meals, all while building lifelong friendships.
Camp Rahh is a place where you get to be a kid again even for just a short few days. Just like summer camp when we were younger there are no drugs, alcohol, cellphones, social media and talking about work. At camp, we believe you are not just your job title so let's not talk about work, you don't have a phone to hide behind or alcohol for liquid courage. At camp we want your raw(Rahh)-self, to focus on yourself and unplug!