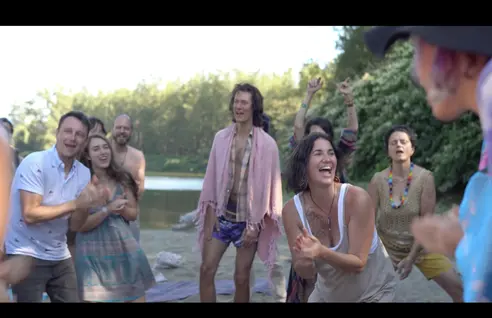 Song Circle with Ahlay Blakely
7-9pm. Suggested donation $25-$55 cash or venmo.
Throughout all of our ancestral backgrounds, at one point we gather(ed) in circle where everyone would be seen, recognized & heard. Ahlay has a unique way of pulling the collective back to these roots. The stories she weaves are birthed through survival & adversity that then emit space for being lifted. She blends body rhythm, dance, stillness, breath & silence into what she likes to call "song ceremony." Her deepest intention is to help people remember their inherent birthright to singing and rhythm that is already living within the body.

Ahlay is a commitment to breaking cycles of intergenerational trauma both caused and endured by her ancestors, while also recognizing the compounded harm we have yet to collectively acknowledge so we can begin to transform it. She is a descendent of the uprooted and rootless ones and is dedicated to re-rooting & re-sensitizing her people through culture building and reviving her indigenous ancestor's cosmologies through remembering what was meant to be forgotten.
Ahlay (she/her) is a Jewitch, Scandinavian singer-songwriter, grief tender, community organizer and ceramicist walking the path of ancestral healing and the reclaiming of lost cultural memories. Ahlay unearths the power in song, that similar to prayer, can propel the solidification of realities. They write for the community to transform, ask questions, and seek to lead lives that would make us ancestors worth honoring. The songs Ahlay carries in the basket of her heart are swirls of spells for cracking open, falling humbly to our knees, cultivating more compassion, more internal spaciousness, and more access to the conversations our souls are aching to have with us about their most intimate longings. Ahlay shares these songs with communities who are calling in an experience that includes something bigger than themselves and reminds them how small they actually are amongst a vast ecosystem.